Online Safety
~ LEARNING TOGETHER: LEARNING TO BE TOGETHER ~
At Pye Bank Primary School, the curriculum supports and develops the pupils' ambitions and aspirations and understanding of the community and the wider world in which they live. The curriculum is underpinned by enquiry based practice and is research led. Through our curriculum we aim to expose children to new experiences, including business and the world of work and research. Academic performance and the development of self (Spirituality, social, moral, physical and cultural development and mental wellbeing) are given equal importance with curriculum design. Our curriculum is designed with the key aim of supporting all children to reach their potential.
Today's children and young people are growing up in an increasingly complex world and living their lives seamlessly on and offline. This presents many positive and exciting
opportunities, but also challenges and risks. In this environment, children and young people need to know how to be safe and healthy, and how to manage their academic,
personal and social lives in a positive way.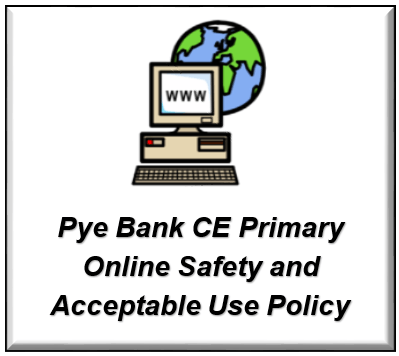 At Pye Bank Primary School, we teach online safety as part of the PSHE curriculum:
Each year group has one discrete online safety lesson each half term, following the the Sheffield Online Safety Curriculum.
Online safety is then also integrated into the PSHE Jigsaw scheme.
Curriculum Documents
Online Safety Rules
Within online safety lessons, the children are taught the online safety rules below. The rules are displayed in classrooms and also on the laptop and iPad trolleys.
| | |
| --- | --- |
| EYFS and KS1 Online Safety Rules | KS2 Online Safety Rules |
Support and Advice for Parents/Carers
School offer ongoing support for parents/carers to guide their children to stay safe online. We hold regular parent workshops though our Coffee Mornings covering the different aspects of online safety, and also provide personalised support for individual pupils and families. For up-to-date information about upcoming parent workshops

There is also a wealth of information for parents online. Below are some key links recommended by school:
For further information, these website are excellent: