ACE: The Pye Bank Curriculum
Here at Pye Bank CE Primary we are proud of our ACE Curriculum; an innovative and creative curriculum which inspires, motivates an promotes EXCELLENCE FOR ALL.
A: ACTIVE LEARNERS
C: CRITICAL THINKERS
E: ENQUIRING MINDS
Through our curriculum we are nurturing Active Learners, Critical Thinkers and Enquiring Minds. We want all learning to be relevant and meaningful for our children, so we have adopted a thematic approach to our long term curriculum planning. Our curriculum is bespoke and designed by our teachers, for our children and focuses on developing the knowledge and skills required for lifelong learning and for academic and economic success in the future.
Each term, alongside a strong focus on Maths, English and PSHE, the children's learning is linked to a particular theme or topic of interest, with the intention of bringing the learning to life and providing a purpose. This could be through an end product or a 'Time to Shine' event celebrating the childrens' learning.
The curriculum is enhanced through Forest School work and a wide variety of trips, visits and visitors, all of which we are very proud of.
It is important for Parents to know about the children's learning. They receive a curriculum map each half term explaining the pupils topic and the focus for learning across the subjects. There are regular updates for parents on the learning taking in the classroom, through the class blogs.
Many subject areas are taught in an integrated way, using themes or topics to give a focus to learning. However, where such an integration of subjects cannot be achieved in a cohesive way, during a particular term, then these are taught separately for that term.
Our teaching is underpinned by the objectives set out in the National Curriculum, these are English, Mathematics, Science, Computing, Art and Design, History, Geography, Music, Physical Education, Personal Social Health and Education (PSHE) and Religious Education. In order to achieve a broad and balanced curriculum – ie to ensure that each subject area is given sufficient prominence and that the skills, concepts and knowledge in each subject are introduced and developed in a structured way - we base each term's work upon a long term plan, which we regularly update and review.
We have developed a much greater love of music and the arts through specialists visiting our school regularly.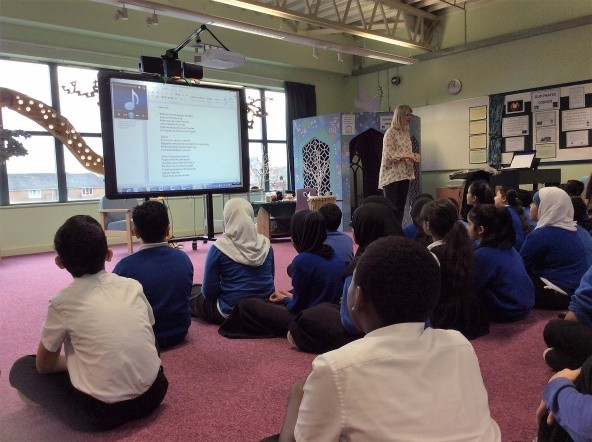 For more information click on the links below:
For an overview of the Curriculum Content in each year group click here